washington - U.S. President Joe Biden is set to meet outgoing NATO Secretary-General Jens Stoltenberg at the White House on Monday as jockeying to secure his successor intensifies.
While the White House says the official agenda for the meeting is to discuss the alliance's July summit in Vilnius, Lithuania, the issue of who will be next at NATO's helm during this difficult period in its 74-year history will no doubt be front and center, as the alliance faces Russia's war in Ukraine.
Stoltenberg, a former Norwegian prime minister, is the longest-serving NATO chief in a generation and has had his tenure extended three times since taking the job in 2014. In February, his spokesperson said he would leave office when his current term ends in October.
Stoltenberg is widely credited for managing rocky transatlantic relations between former U.S. President Donald Trump and European allies over defense spending; the withdrawal of NATO forces from Afghanistan in August 2021; and the alliance's response to Moscow's invasion of Ukraine. His preference about his successor carries weight and Biden is expected to consult with him.
"A lot of people will look to him to say, 'Who do you think is the best to follow up your leadership?" Andrew Hyde, senior fellow at the Stimson Center, told VOA.
Whoever succeeds Stoltenberg will face the daunting challenge of shepherding the security of 1 billion people in 31 countries and growing. He or she must manage the tough balancing act of supporting Ukraine militarily while preventing the conflict from bleeding into the territory of a NATO member, which would trigger the alliance's Article 5 principle of collective defense and potentially lead to World War III.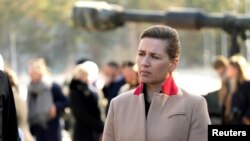 FILE - Denmark's Prime Minister Mette Frederiksen visits NATO's enhanced Forward Presence battle group troops in Adazi, Latvia, March 31, 2022.
Consensus based
A U.S. general is traditionally the Supreme Allied Commander Europe but the post of NATO chief has always been assumed by a European, even though there's nothing in the alliance's charter that requires it.
There's no formal process and candidates don't announce that they're running for the post. Selection is done through consensus, achieved mostly through quiet and informal diplomatic channels.
As the biggest donor, the U.S. plays a key role - the reason why two contenders have visited the Oval Office recently.
Danish Prime Minister Mette Frederiksen met with Biden at the White House on Monday. She is seen as a front-runner; however, her candidacy would mean a third successive secretary-general from a Nordic country.
Another potential hurdle is that Denmark has long failed to meet the 2% minimum requirement in military spending for member states. In December, her government launched a plan to meet NATO's target by 2030, and it recently ramped up military aid to Ukraine.
U.K. Prime Minister Rishi Sunak visited Washington days after Frederiksen, with a broad agenda that includes lobbying for his defense secretary, Ben Wallace. Britain, supplier of more military assistance to Ukraine than any other country after the United States, has clout. And as one of the first defense ministers to provide lethal aid to Ukraine, Wallace is well-known among the alliance.
However, out of 13 chiefs in NATO's history, three were British.
Biden was noncommittal when asked whether it was time for another one. "Maybe. That remains to be seen," he said Thursday during a joint news conference with Sunak.
All who have filled the post since 1952 were male.
FILE - Estonian Prime Minister Kaja Kallas speaks as she reacts to election results in Tallinn, March 6, 2023.
Time for a woman?
There is a sense that it's time the alliance selects a female leader, Hyde said. With the Russian war raging, "there's also a feeling it should be somebody from Eastern Europe," he added.
Estonian Prime Minister Kaja Kallas and her Lithuanian counterpart, Ingrida Simonyte, meet both requirements. However, some observers argue that a leader from one of the Baltic countries, which are usually hawkish on Russia, could be perceived as a provocation by Moscow.
Slovakia's President Zuzana Caputova and European Commission President Ursula von der Leyen of Germany have been floated as potential candidates. So has Canadian Deputy Prime Minister Chrystia Freeland, although her Ukrainian heritage may prove to be a complication.
Dutch Prime Minister Mark Rutte has been mentioned as another contender. And there's always the possibility that the allies might prevail on Stoltenberg to extend his tenure yet again.
The issue of who will be the next NATO secretary-general is expected to be settled by July, when the group's leaders meet in Vilnius.